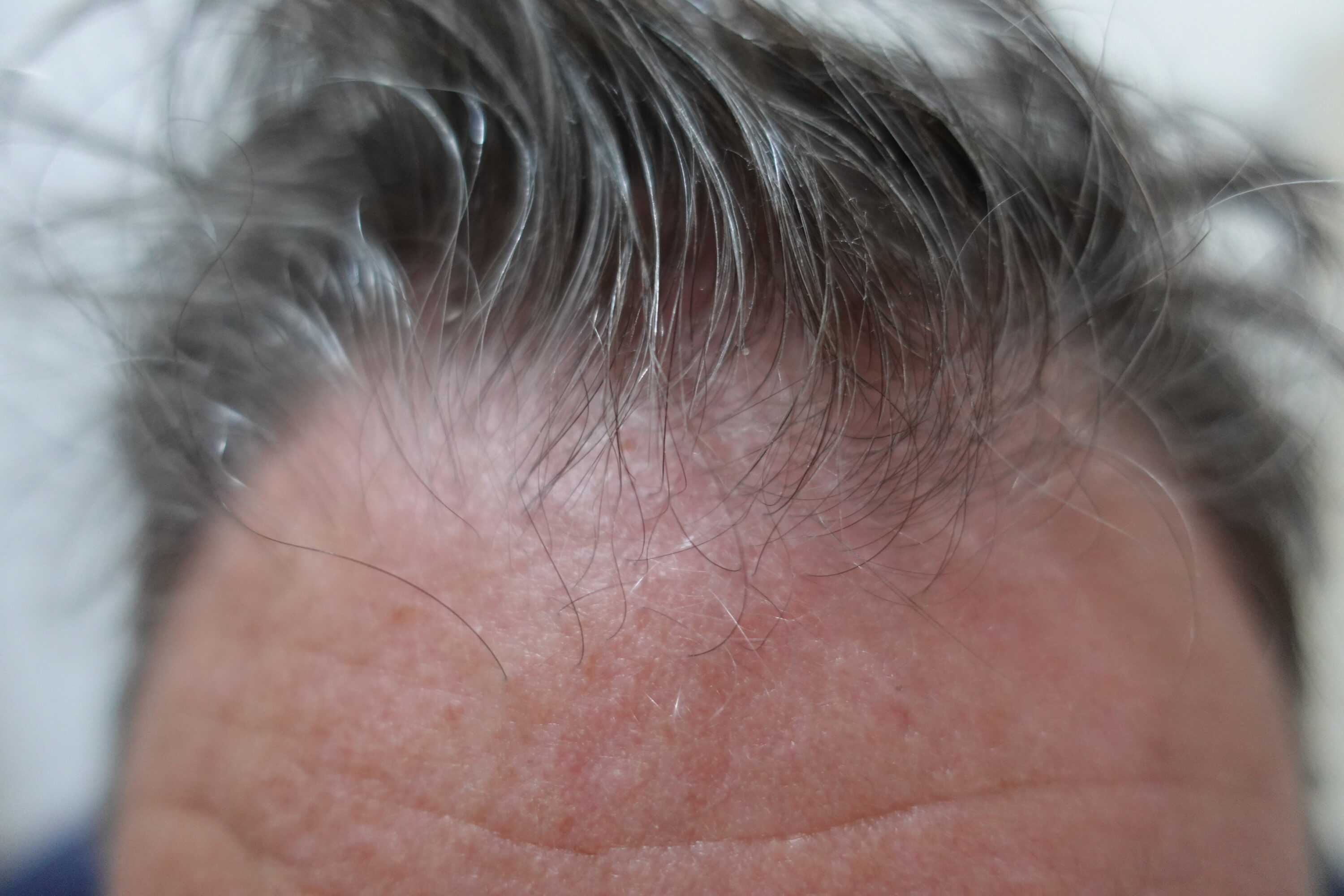 Issue 9 : Positive Results Of Scalp Seborrheic Dermatitis Treatment With CELLBOOSTER® Hair: Case Report
Gabriel Siquier-Dameto ¹ – ³
1. Private Practice, Amsterdam, the Netherlands; 2. Private Practice, Mallorca, Spain; 3. Research Group of Clinical Anatomy, Embryology and Neuroscience (NEOMA),
Department of Medical Sciences, Universitat de Girona (UdG), Girona, Spain.;
email: info@dametoclinics.com
BACKGROUND
Seborrheic dermatitis (SD) is a chronic relapsing inflammatory skin disorder clinically characterized by scaling and poorly defined erythematous patches. The prevalence of adult seborrheic dermatitis is estimated at 5% ¹. This affection normally appears on seborrheic areas as an inflammatory response to Malassezia species. The most commonly used treatment is topical antifungal and anti-inflammatory agents. Other therapies include lithium gluconate/succinate, coal tar, salicylic acid, selenium sulfide, sodium sulfacetamide, glycerin, benzoyl peroxide, aloe vera, mud treatment, phototherapy, among others. Alternative therapies have also been reported 2. Cellbooster® Hair can be a different way of therapy to cure, prevent and manage SD.
OBJECTIVE
To report a two months follow up assessment of therapy by injection of Cellbooster® Hair in an adult male person with SD on the scalp area.
INTRODUCTION
SD is a chronic, recurring inflammatory skin disorder that manifests as erythematous macules or plaques with varying levels of scaling associated with pruritus. Malassezia colonization, sebaceous gland activity, hormones, immune system defects, environmental factors, and the  interactions between these factors are thought to contribute to the pathogenesis of SD. Recent studies noted that patients who had SD had lower levels of serum zinc levels than healthy subjects 3. If left untreated, hair loss could be triggered. This would be as a consequence of losing the hydrolipidic balance that the hair needs in its life cycle and, over time, more or less serious alopecia could be caused. Given the chronic and recurrent nature of this disorder, the use of potentially aggressive treatments cannot be prolonged over time. On Cellbooster® Hair the main ingredient is hyaluronic acid (HA) with a concentration of 18mg/3mL, stabilized with a specific active ingredient's formulation composed by amino acids (arginine, cysteine, glutamine, glycine, lysine), vitamins (niacin, pantothenic acid – B5, pyridoxine – B6, biotin – B7, cyanocobalamin
– B12, rutin) and minerals (coper and zinc) thanks to the patented CHAC technology the active components are released sequentially, thereby competition for the same receptors is eliminated.
Hyaluronic Acid as an hydrophilic polymer has hydrating action on the skin. The amino acids blend, provides antioxidant effect while improving also hair quality by replenishing key structural components. Vitamins are important for the antioxidant activity and play important roles in cellular metabolism. Minerals are key elements in the formulation as zinc is a cofactor involved in more than 80 protein synthesis 4 and regulate the activity of sebaceous glands inducing an improvement of SD, and coper has anti-inflammatory effect and antioxidant action. The combination of these activities can result into down regulation of the skin alteration in SD. The evaluation of the positive impact in SD after treatment with Cellbooster® Hair in an adult patient is described in this case report.
MATERIALS/METHODS
A 50 years old male with frequent recurrence of SD symptoms on the scalp area, not adequately controlled with topical treatments was selected for Cellbooster® Hair procedure in our clinic. Besides pruritus, the affected area presented patches with pink-red erythema and large
thickened scales (Figure 1, Top). Three treatment sessions biweekly were suggested as protocol, a control session was done 2 weeks after last treatment. Three milliliters of Cellbooster® Hair were used per session. The injectable method was intradermal micropapula technique
(Figure 2) with a 4mm 33G needle. Contraindications, such as active infection of the skin or treatment with immunosuppressants, were not present. No side effects were observed.
Figure 1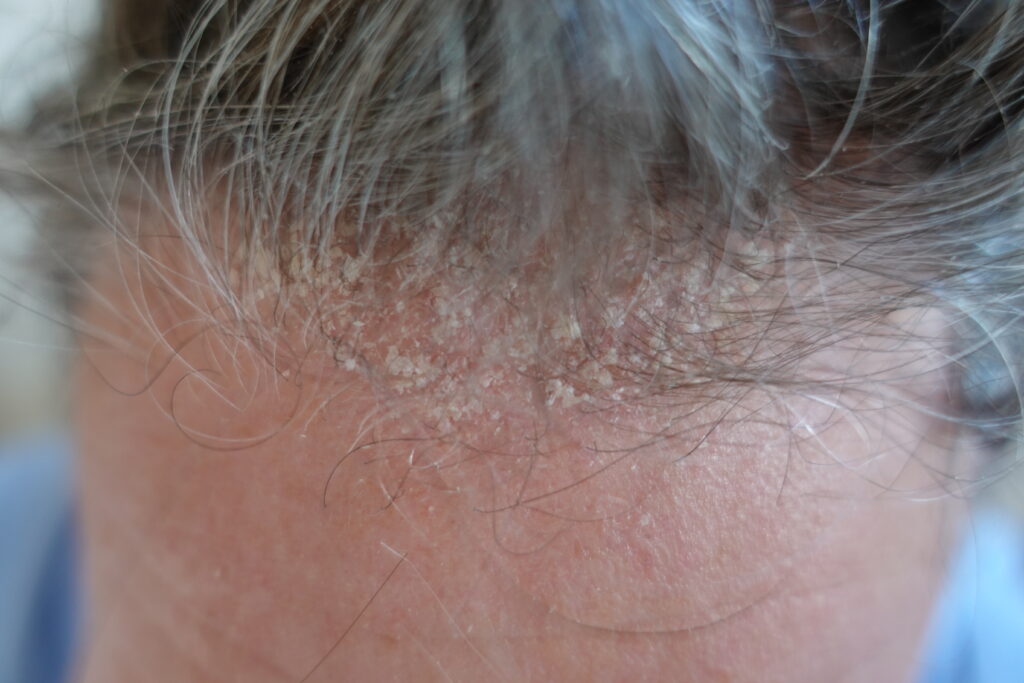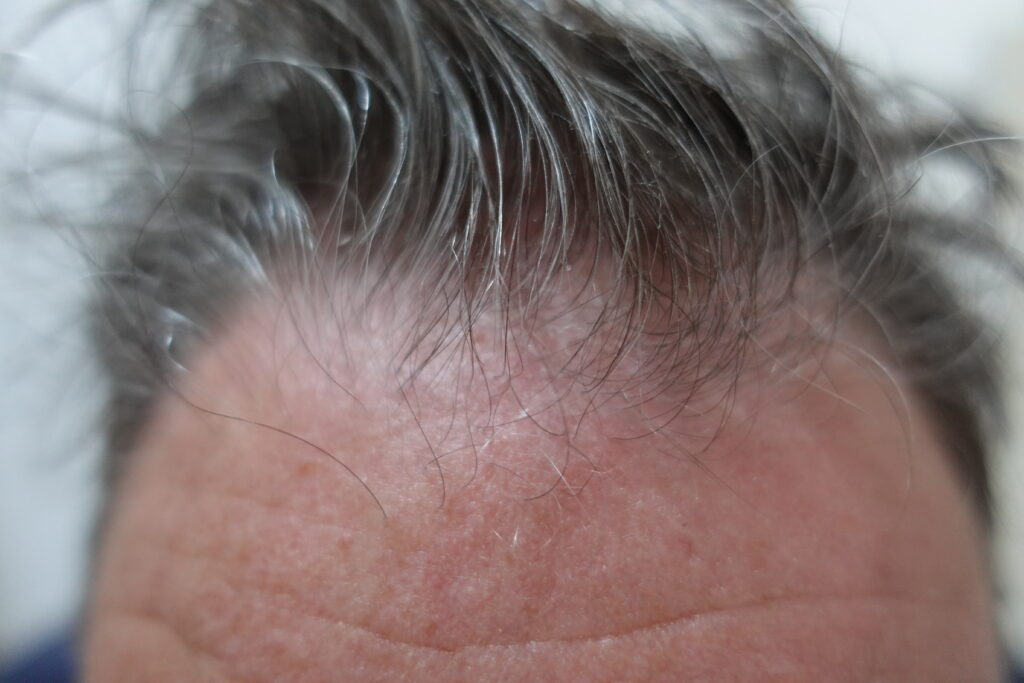 Representative images of scalp SD with scaling before Cellbooster® Hair
injection (First) (baseline). Two weeks after the treatment a reduction of scales and an improvement
of skin texture have been observed (Second).
Figure 2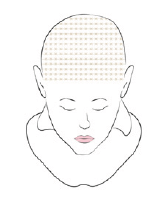 • Injection angle: 30°, bevel of the needle up.
• Injection depth: intradermal.
• Volume injected: 3ml for scalp area,
0,025 ml per point every 2/3mm.
• Needle type: 30-32G, 4 mm.
Results
The treatment was able to produce significant improvement of both pruritus and scaling, in a time-dependent manner already observable after first session. In addition, a progressive reduction on erythema with an improvement of scalp skin texture have been observed two weeks after the last treatment (Figure 1, Bottom), the patient was very satisfied with the overall outcome.
Conclusion
This report demonstrates that injectable treatment with Cellbooster® Hair is beneficial reducing inflammation and scaling. This outcome suggests that the HA together with the active ingredients present in the Cellbooster® Hair formulation, may help to reduce the symptoms of SD on the scalp area. These data need to be corroborated, but suggest that Cellbooster® Hair has a therapeutic and preventive benefit in the handling of SD.The molecular mechanisms underlying the observed effect needs to be further investigated.
Disclosure
The author declares no conflicts of interest.
References
1. Bukvić Mokos Z, Kralj M, Basta-Juzbašić A, Lakoš Jukić I. Seborrheic dermatitis: an update.
Acta Dermatovenerol Croat. 2012;20(2):98-104. PMID: 22726283.
2. Borda LJ, Perper M, Keri JE. Treatment of seborrheic dermatitis: a
comprehensive review. J Dermatolog Treat. 2019 Mar;30(2):158-169. doi:
10.1080/09546634.2018.1473554. Epub 2018 May 24. PMID: 29737895.
3. Aktaş Karabay E, Aksu Çerman A. Serum zinc levels in seborrheic dermatitis: a case-control
study. Turk J Med Sci. 2019 Oct 24;49(5):1503-1508.
doi: 10.3906/sag-1906-72. PMID: 31651121; PMCID: PMC7018314.
4. Muhamed PK, Vadstrup S. [Zinc is the most important trace element]. Ugeskr
Laeger. 2014 Mar 3;176(5):V11120654. Danish. PMID: 25096007.
Related Articles
Issue 11: CELLBOOSTER® GLOW: Anti-Aging and Depigmentation Effect of a Hyaluronic Acid Mechanically Stabilized Complex on Human Skin Explants

Gabriel Siquier-Dameto 1,2,†, Sylvie Boisnic 3,†, Pere Boadas-Vaello 2 and Enrique Verdú 2,* 1 Dameto Clinics International, 1171 VC Badhoevedorp,…

Read Article

Issue 10: Positive results of striae distensae treatment with CELLBOOSTER® LIFT: Case Report

Gabriel Siquier-Dameto 1 – 2 Timur Taskesen 3 1. Private Practice, Dameto Clinics International, Aesthetic Medicine, Spain & the Netherlands; 2….

Read Article