Issue 10: Positive results of striae distensae treatment with CELLBOOSTER® LIFT: Case Report
Gabriel Siquier-Dameto 1 – 2 Timur Taskesen 3
1. Private Practice, Dameto Clinics International, Aesthetic Medicine, Spain & the Netherlands; 2. Research Group of Clinical Anatomy, Embryology and Neuroscience (NEOMA), Department of Medical Sciences, Universitat de Girona (UdG), Girona, Spain; 3. Private Practice, Corius Sanaskin, Dermatology, Zürich, Switzerland
email: info@dametoclinics.com
BACKGROUND
Striae distensae (SD), otherwise known as "stretchmarks", are a form of scarring on the skin with an off-colour hue, they are caused by tearing of the dermis, which over time may diminish, but will not disappear completely. They are the result of the rapid stretching of the skin associated with rapid growth or rapid weight changes. In most cases may also be influenced by hormonal changes associated with: puberty, pregnancy, bodybuilding or hormone replacement therapy.
The pathogenesis is unknown but relates to changes in the components of extracellular matrix, including fibrillating, elastin and collagen. SD are characterized by erythematous or atrophic bands and are histologically atrophic epidermis, homogenized collagen and hardly elastic fibers.
However, despite several advances, no fully effective treatment has emerged. Commonly cited treatments include topical treatments like tretinoin, glycolic acid, ascorbic acid and various lasers including (like) carbon dioxide, Er: YAG, diode, Q-switched Nd: YAG, pulse dye and excimer laser. Other devices like radiofrequency, phototherapy and therapies like platelet rich plasma, chemical pee- ling, microdermabrasion, needling, carboxytherapy and galvanopuncture have also been used with variable success.
The decreased expression of collagen and fibronectin genes in affected tissues and thus the reduction of the type I and III procollagen in fibroblasts in striae compared to normal skin, offers an approach in treatment with hyaluronic acid (HA) Cellbooster® Lift (CB) can be a different way of therapy to improve, prevent and manage SD.
OBJECTIVE
To report a two months follow up assessment of therapy by injection of CB in an adult female person with SD on the legs area.
On CB the main ingredient is HA with a concentration of 18mg/3mL, stabilized with a specific active ingredient's formulation composed by amino acids (arginine, proline, valine, glycine, lysine) and vitamins (riboflavin, biotin, tocopherol, sodium ascorbyl phosphate) thanks to the patented CHAC technology the active components are released sequentially, thereby competition for the same receptors is eliminated.
HA as hydrophilic polymer has hydrating action on the skin. The amino acids blend, provides antioxidant effect while improving also skin quality by replenishing key structural components. Vitamins are important for the antioxidant activity and play important roles in cellular metabolism. The combination of these activities can result into reparation of the skin alteration in SD. The evaluation of the positive impact in SD after treatment with CB in an adult patient is described in this case report.
MATERIALS & METHODS
A 35 years old female with SD on the legs area, was selected for CB procedure in our clinic. The affected area presented superficial white SD with no ladder rungs and non-palpable depression, that correspond to a stage 2A on the Deprez-Adato classification (Figure 1). Three treatment sessions biweekly were suggested as protocol, a control session was done 2 weeks after last treatment. Three millilitres CB were used per session. The injectable method was intradermal papula technique with a 4mm 33G needle. Contraindications, such as active infection of the skin or treatment with immunosuppressants, were not present. No side effects were observed.
Figure 1

RESULTS
Skin structure improvement can be seen by visual assessment and clinical imaging (Figure 2). Brightness of skin with the shown SD was significantly higher before (Figure 2, A) than after the treatment cycle (Figure 2, B). Overall improvement of the dermo-epidermal layer can be seen as less reflective texture and reduction of the "shine-through" aspect.
The treated skin relief reflects structural modifications in the dermis. Elevation of the dermal-epidermal junction maybe functionally related to the positive effect of the HA to the collagen fiber alignment. Overall, the skin seems more firm and more elastic as revealing changes of the dermal thickness and elasticity of stratum corneum. SD become less defined and less depressed.
Figure 2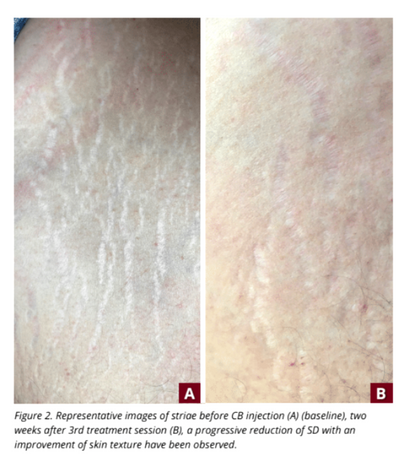 CONCLUSION
This report demonstrates that injectable treatment with CB is beneficial reducing and improving the appearance of SD. This outcome suggests that the HA together with the active ingredients present in the CB formulation, it can be helpful in prevention and improving skin changes associated with SD.
These data need to be corroborated, but suggest that CB has a therapeutic and preventive benefit in the handling of SD. The molecular mechanisms underlying the observed effect needs to be further investigated.
DISCLOSURE
The authors declare no conflicts of interest.
REFERENCES
Lokhande AJ, Mysore Striae Distensae Treatment Review and Update. Indian Dermatol Online J. 2019 Jul-Aug;10(4):380-395. doi: 10.4103/idoj.IDOJ_336_18. PMID: 31334056; PMCID: PMC6615396.
Watson RE, Parry EJ, Humphries JD, Jones CJ, Polson DW, Kielty CM, et al. Fibrillin microfibrils are reduced in skin exhibiting striae Br J Dermatol 1998; 138: 931-7.
Huang Q, Xu LL, Wu T, Mu New Progress in Therapeutic Modalities of Striae Distensae. Clin Cosmet Investig Dermatol. 2022 Sep 30;15:2101-2115. doi: 10.2147/CCID.S379904. PMID: 36213315; PMCID: PMC9532256.
Karna E, Miltyk W, Surazyński A, Pałka JA. Protective effect of hyaluronic acid on interleukin-1-induced deregulation of beta1-integrin and insulin-like growth factor-I receptor signaling and collagen biosynthesis in cultured human Mol Cell Biochem. 2008 Jan;308(1-2):57-64. doi: 10.1007/s11010-007-9612-5. Epub 2007 Sep 25. PMID: 17899316.
Related Articles
Issue 11: CELLBOOSTER® GLOW: Anti-Aging and Depigmentation Effect of a Hyaluronic Acid Mechanically Stabilized Complex on Human Skin Explants

Gabriel Siquier-Dameto 1,2,†, Sylvie Boisnic 3,†, Pere Boadas-Vaello 2 and Enrique Verdú 2,* 1 Dameto Clinics International, 1171 VC Badhoevedorp,…

Read Article

Issue 9 : Positive Results Of Scalp Seborrheic Dermatitis Treatment With CELLBOOSTER® Hair: Case Report

Gabriel Siquier-Dameto ¹ – ³ 1. Private Practice, Amsterdam, the Netherlands; 2. Private Practice, Mallorca, Spain; 3. Research Group of…

Read Article